Zendesk started the customer experience revolution in 2007 by enabling any business around the world to take their customer service online. Today, Zendesk is the champion of great service everywhere for everyone, and powers billions of conversations, connecting more than 100,000 brands globally. The advancement of AI technology has put the company at the forefront of innovation, leading the conversation on how it will enhance business operations.
A PARTNERSHIP BUILT TO LAST
In Q4 2022, Zendesk commissioned The Social Standard to activate B2B Influencers and professional Creators to explain and socialize its annual CX Trends report, their flagship industry analysis.
That initial success scaled our work with Zendesk into a larger partnership for which we continually leverage top B2B Influencers across video, editorial, social, event, and other channels on an ongoing cadence.
Below we highlight three initiatives: CX Trends, Zendesk's Relate Conference, and Louder & Prouder in Ai; each showing demonstrable success across varied and distinct KPIs.
DRIVING TRAFFIC W/ INDUSTRY-LEADING RESEARCH
Zendesk is known for its industry-leading whitepaper, CX Trends, which highlights the numerous and evolving trends in the customer experience space. In an effort to both drive awareness and amplify interest, The Social Standard was tasked with activating select Business, Customer Experience, and Tech influencers to create custom content. 
These influencers ultimately drove over 24% of traffic to the 2023 CX Trends Report.
The Results
330k impressions
21k video views
2k+ engagement
24% of total traffic
EVENT-BASED SUPPORT: DIGITAL AND IRL
Every year, Zendesk hosts its flagship event, Relate, a conference where attendees learn and discuss the most important topics in customer experience. This year, the event was both in-person and digital, and as such, we activated both digitally and onsite. The Social Standard activated three B2B Influencers across LinkedIn, Instagram, and Twitter to drive registrations, as well as one Creator to socialize the event IRL and create long-form recap video content for YouTube.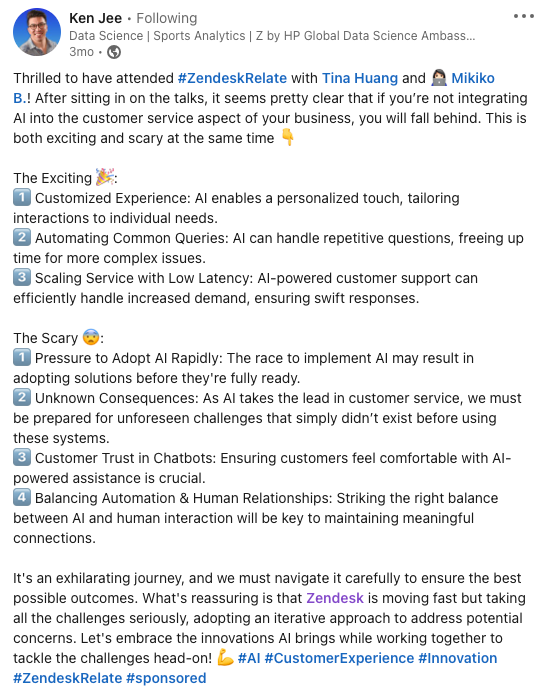 The Results
Impressions: 309k+
Engagements: 2.6K+
Views: 24k+
IMPACTING SHARE OF VOICE
After the widespread launch of synthetic chat (i.e. ChatGPT) and growing consumer engagement with generative AI, Zendesk sought to drive awareness to its own use of AI in the Zendesk CX suite, and the technology's rapid and forthcoming evolution through Influencer-driven video and editorial content. The Social Standard activated two prominent voices in AI to add credibility and authenticity to Zendesk's messaging.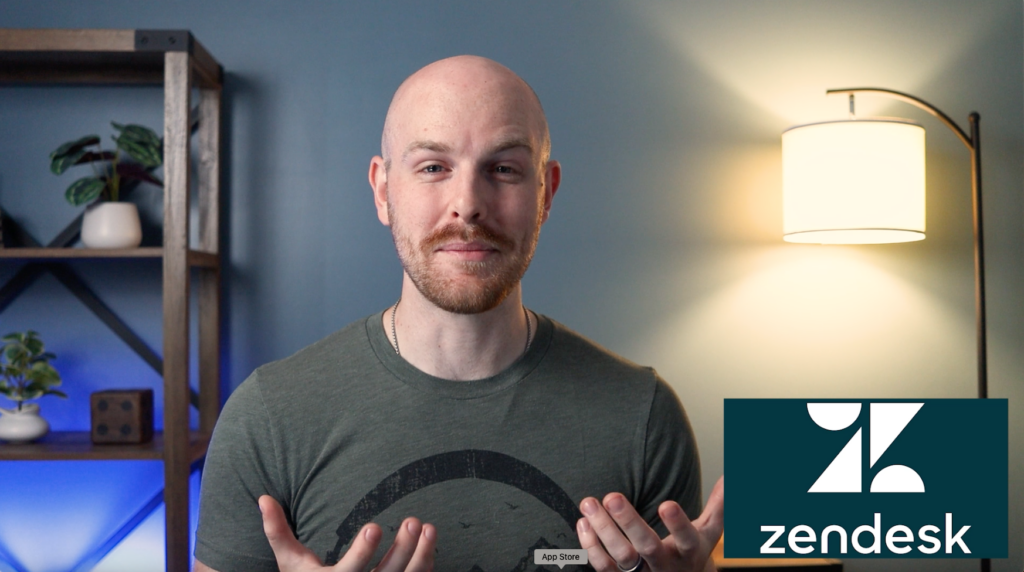 The Results
Impressions: 300k+
Video Views: 100k+
Newsletter Views: 146k+
Engagements: 10.5k+
INTERESTED IN B2B INFLUENCERS?
Learn more about how you can can activate B2B influencer when you contact partner@sostandard.com.