The Social Standard celebrates employees that strive to set the standard in our culture, values, and mission of continuous improvement. Today we sit down to recognize Spence David for the promotion to Senior Sales Manager. Spence has been a driving force for delivering performance-driven results for our clients, some of the most successful brands in the world.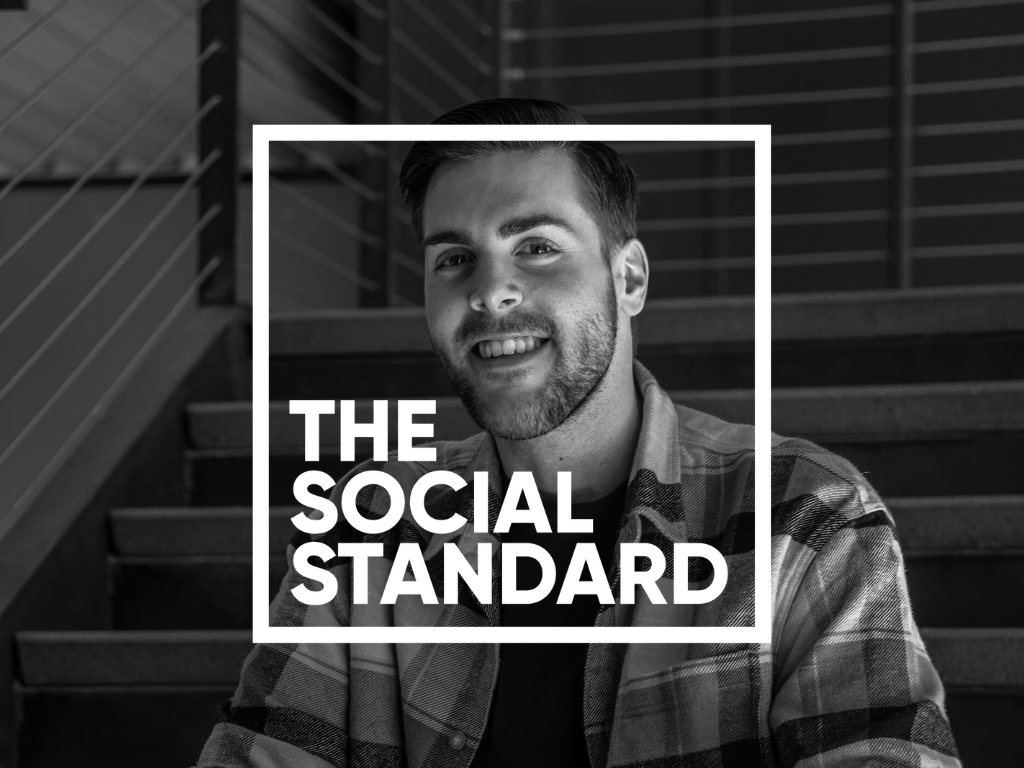 "The Samsung World Environment Day Twitter Livestream campaign felt electric…"
Experience At The Social Standard
Q: Congratulations on the promotion! Tell us about the journey you've been on here at The Social Standard.
A: Everything has been excellent! From the start, I felt welcomed with open arms. My team leaders made themselves available to help answer questions, break down our processes, and make campaigns run smoothly. I'm excited to continue being a part of The Social Standard in a new role and grateful to have gained valuable knowledge and mentoring from our Chief Revenue Officer Dylan and CEO Jess. Now, looking forward to building even stronger bonds and connections with our clients as a Senior Sales Manager.
Q: You are obviously a people person! What skills do you feel make a quality sales manager?
Relationships matter so much to me! I always want our clients to feel heard, so active listening skills, clear communication, and a positive attitude (and sense of humor) go a long way.
Q: Can you tell me about the favorite campaign you've been a part of?
Working on the Samsung World Environment Day Twitter Livestream has been my favorite! The campaign moved so fast that it felt electric. There were so many pieces to put together, but in the end turned out fantastic, gaining over 3.5M views.

"If you want to maximize opportunity, think long-term!"
What's Next in Influencer Marketing
Q: What trends in influencer marketing should brands be aware of?
A: There are three things I like to remind brands about influencer marketing strategies and trends. 
One. A macro-influencer with a large follower base doesn't always perform better for brands. I suggest activating a range of creators and niche Micro and Nano influencers. They often have more personal connections to their audiences, and the results speak to that fact. 
Two. If you want to maximize opportunity, think long-term. Ongoing partnerships create consistency with consumers and come off as more authentic than one-offs.
Three. Consider the influencers in your backyard. Target hyper-local creators to your store to produce content. They can share narratives and personal experiences to serve as brand narratives.
Bonus tip, consider content creators already on your payroll. Employee user-generated content will help influence decisions and give staff something fun for their portfolio as inspiring influencers.
Q: Who should we be following if we aren't already?
A: Depending on your interests, there is an influencer for everyone. For fitness/adventure content, I always turn to @DemiBagby. Her training to be a Top Gun pilot was incredible. It's been so fun to watch lifestyle influencer @theaxelwebber move to a tiny apartment in NYC. You can do anything if you have a passion. Lastly, @parkerlocke makes the most unbelievable video FX. His Harry Potter one is magical. 

"I love opening people's minds and showing opportunities inside influencer marketing!"
Future Goals
Q: Now that you've been promoted to Senior Sales Manager, what other goals do you want to achieve?
A: Great question! I love opening people's minds and showing them what opportunities exist inside influencer marketing. I want to break into new markets and show The Social Standard's full potential. Next, I want to continue to build long-term relationships. This is a people business, and I'm here to help. Lastly, in this role I want to inspire the team to work hard, think creatively and have fun. 
Q: What does "striving to set the standard" mean to you?
A: Striving to set the standard means stepping outside the box and creating your own standards by bringing out the best in influencers and brands. Aspiring to tackle new opportunities and challenges with a unique and fresh perspective.
Scale Your Influencer Marketing
The Social Standard is a full-service influencer marketing agency driven by setting the standard for the industry and then reaching even higher. Our team is obsessed with finding the right influencers for our partners. But we are way more than just matchmakers. We are strategists that develop effective campaigns to delight, inspire, entertain and hit business goals. From concept to seamless execution, we work with clients such as Adobe, FiatChrysler, L'Oreal, Motorola, and others, positioning them as pioneers in innovative influencer marketing and helping talent thrive in the creator economy. Want to learn more about our agency's work? Shoot us an email at partner@sostandard.com. We'd love to collaborate!