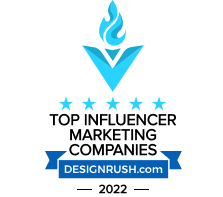 DesignRush.com, a B2B marketplace connecting brands with agencies, has ranked The Social Standard among the "Top Influencer Marketing Companies" that develop campaigns that increase consumers, conversions, and revenue.
DesignRush, Founder and CEO Gabriel Shaoolian, strongly supports pairing brands with talent, "Because influencer marketing is such a visual channel, it's usually a perfect match for most eCommerce brands."
The Social Standard is a full-service influencer marketing agency driven by setting the standard for the industry and then reaching even higher. We work with the world's biggest celebrity influencers including Billie Eilish, Tony Hawk, Marshmello, and clients such as Adobe, FiatChrysler, L'Oreal, Motorola. Together, we position them as pioneers in innovative influencer marketing and helping talent thrive in the creator economy.